Video with no sound

Video with sound

La Manga is a wonderful place for a family holiday or a romantic holiday for two. Whatever you want to do, you will find the option at La Manga. You have the choice between two beaches, the calm, warm, crystal clear waters of the Mar Menor, which is ideal for your children, as it is also very shallow, or the Mediterranean Sea with wide sandy beaches and rolling waves – ideal for surfing or fishing.
It is an area where the Spaniards would even go on vacation, and you will quickly discover why.
Many visitors take the ferry to Sandiago de Ribera on Wednesday to visit the market or simply for the pleasure of a cruise.
Tomas Mastre Marina is a very pleasant place to take long relaxing walks, sunbathing, look at the beautiful surroundings, or just practice your Spanish with a waiter. One of my favorite recreationnal facilities is to visit the restaurants on the left side of the marina and watch the sun go down while I have a glass of wine in hand of course! Pure pleasure!
The sun sets over the marina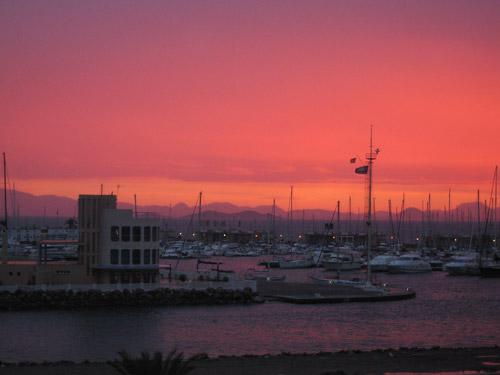 Link to tourist guides in English
Murcia region
Attractions outside the city
Los Alcazares is the nearest beach area about 15 minutes away. It has many bars and restaurants and good beaches for you to enjoy the warm waters of the Mar Menor.
San Pedro De Salinas is at the end of 'The Strip' and is famous for its mineral mud baths. There are lovely walks on the major sidewalks that go through the nature reserve.
Roldan is the village closest to La Torre and it is a typical traditional small Spanish town.
Torre Pacheco and Balsicas is about 10 minutes away, and offers traditional Spanish bars and restaurants.
La Manga Strip is located at La Manga del Mar Menor. It is a narrow stretch of land that separates the Mediterranean from the inland sea of ​​Mar Menor. Nearby is La Encañizada nature reserve.
On both sides of the La Manga Strip – spread over 50 km – are lovely sandy beaches with a wide selection of bars and restaurants nearby.
Excursions
Mar Menor Ferry
The ferry departs from Santiago de la Ribera starting at 10:00 and then every two hours to La Manga Puerto Harbour, on the calm waters of the Mar Menor.
La Manga port has a rich selection of bars and restaurants to relax and enjoy a drink or a meal.
Or if you prefer, you can jump on one of the many busses and tourist trains and explore La Manga.
Cartagena Port Catamaran Cruise
Discover Cartagena by sea. The cruiser offers daily trips from the wharf and takes about an hour. From the sea you can admire the historic fort and hilltop castle, and you will also find the port area.
Mar Menor Go Karts
A great day for all ages. Located close to San Javier Airport on the way to Los Alcazares. It is open from 11:00 to 23:00.
Charter Muffy
All year round there are cruises, boat charter, fishing and diving trips. Enjoy a relaxing trip to visit and explore the local islands and beaches.
You can swim and snorkel in the warm Mar Menor waters or see the Mar Menor by night with a short cruise to Pediguera island, explore the island and enjoy an evening meal while watching the sunset.
Charter Muffy can also arrange sea and lake fishing. For further information email info@chartermuffy.com.
Polaris World Garden Center
Has the market, workshops, a cafe, a playground and a parrot garden.
Shopping
Cartagena has many winding streets that offer a selection of typical Spanish shops and high-end brands.
In Cartagena 'Mediteranian Retail Park' there are 3 large supermarkets with electrical appliances, a Carrefour, Toys R Us, sports shops and restaurants.
Murcia's wide avenues are filled with a wide selection of brand products. Towards the cathedral you will find winding streets with small shops and boutiques.
"Nueva Condiminium Centre" is an indoor shopping mall paradise with 250 shops on two levels.
It has a large selection of Spanish and British stores including Zara, H & M, Mango and Primark. There are also cafés, bars and restuarants.
On the main road from La Torre to Murcia next to the Ikea store you will find another indoor mall: Thader Centre.
Dos Mares complex has shops, supermarkets, an amusement park and a bowling alley. It is located at exit 777 on the A97.
For early risers, there is also the opportunity to participate in the local markets:
Monday-San Pedro del Pinatar
Tuesday-Los Alcazares
Wednesday-Santago de la Ribera
Thursday-San Javier
Saturday-Torre Pacheco
Sunday-San Javier autocine
About Murcia
The Murcia region has an average of 320 sunny days a year, an average annual temperature of 21 º C, and 250 km of coastline along two oceans: the Mar Menor and the Mediterranean. It is known to be a land of contrasts, mountainous national parks, southern basins with steppe landscapes and wonderful beaches such as those found in La Manga, Mazarrón and Calblanque.
Murcia coastline is rich and varied, with areas with large waves in contrast to the gentle coves and quiet beaches, dunes, salt fields and wetlands. The coastline of the Murcia region contains a wide range of indisputable environmental interest, many of them are nature reserves.
Murcia is located right in the middle of the Mediterranean arc, between Valencia, Andalusia and Castile-La Mancha.
Murcia, the capital, is open and dynamic, with excellent access to all other towns on the east coast of Spain.
Its climate and its inhabitants are good-natured, which makes it a friendly city, it is reflected in the constant busy streets and squares of the city's old neighborhoods where residents and visitors chatting, walking, tasting the delicious 'tapas', or lead towards one of the many culture routes.
Centuries of history and countless civilizations gives Murcia region a rich historical and cultural heritage, with very representative buildings such as the Cathedral and Casino in the capital, the Roman Theatre in Cartagena, and the medieval castles of Lorca and Mula.
More than 30 museums, 22 castles and remains of fortresses spread across the country completes this region's appeal, a country full of history and a tremendously diverse artistic heritage.
Furthermore, experience Murcia region today strong growth, with new modern infrastructure, while maintaining careful respect for the environment.
Festivities
Six National Tourism Interest festivals and 31 regional tourism interests festivals gives an idea of ​​the Murcia region long celebration calendar, which is of great interest to residents and visitors.
It all begins on the last Sunday in January, with Cuadrillas the Barranda Festival.
February is Carnival month with famous dance troupe parades and costume contests in local communities, such as Águilas, Cartagena, and Cabezo de Torres.
The Holy Week is known for Cartagena, Lorca, Jumilla and Murcia processions.
It is also the season for Tamborradas (processions with drummers) accompanying the Mula and Moratalla celebrations, and Murcia Spring Festivals.
A highlight of the latter festivals is Bando de la Huerta Day, where thousands of Murcians, wearing traditional attire, accompany the parade through the city.
Another Holy Week festival is Entierro de la Sardina, which is Murcia's second major festival with Bando.
A pagan festival of mythology and fire – it's a magical evening in the city to be experienced, where an impressive parade of dance troupes, brass bands, entertainment groups, dragons, giants, giant head shapes and balloons accompany a huge sardine, which in the end is burned in a purifying fire under a spring sky lit by a dazzling fireworks.
There are many other celebrations throughout the year. And if you have never experienced a Spanish fiesta, it's one of the things to be included on your to-do list.